The Herts Beacon Assist app has been developed with victims, for victims, over the last few years.
It is designed to provide you with support and detailed information on your rights as a victim of crime. Herts Beacon Assist is loaded with free information and you can connect with a Beacon Support Worker from the Hertfordshire Beacon Victim Care Service for free, personal support.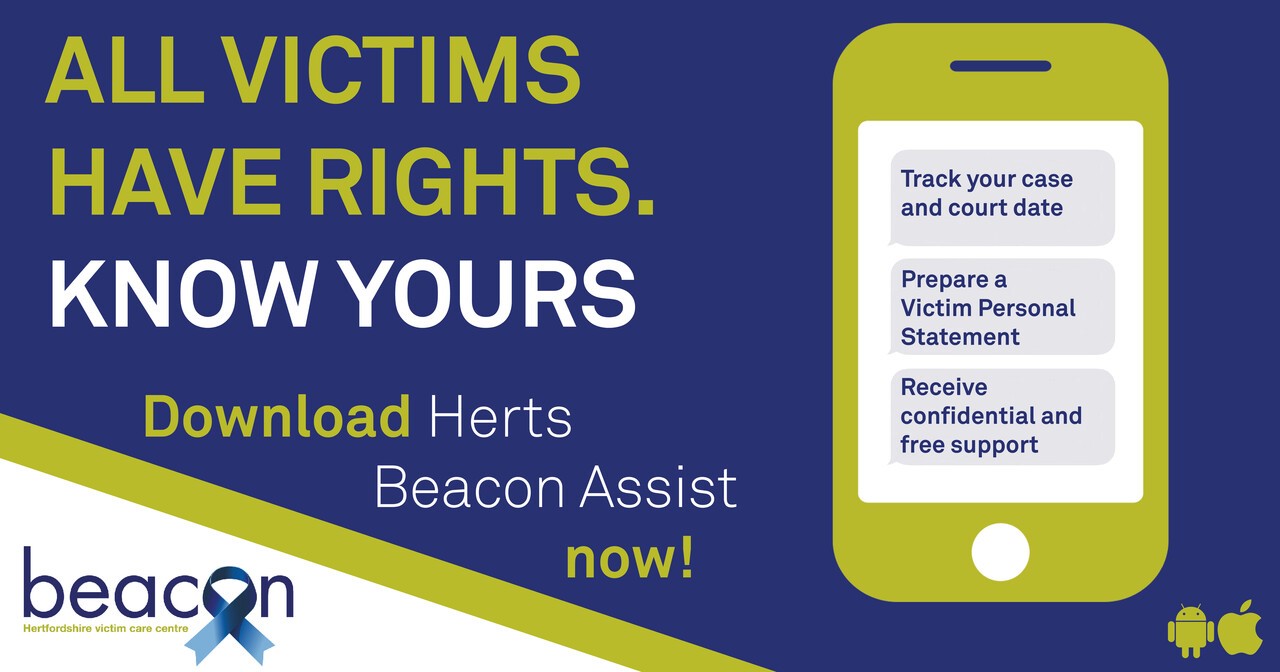 The app will allow you to:
Track key dates for your case and court dates, if relevant

Prepare a Victim Personal Statement, through a journal portal logging how the crime has impacted different areas of your life.

Access free and confidential support, through booking a call or through the confidential messaging portal.

Read self-help tools and guides specific to your needs.

Contact the Hertfordshire Beacon service, confidentially and independent of police, to ask any questions about the criminal justice system which you may have.
An inside look at the Herts Beacon Assist app: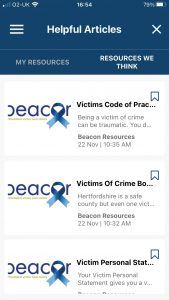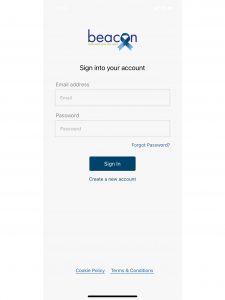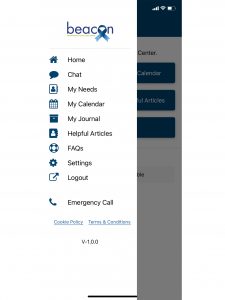 FAQ
What is the Herts Beacon Assist?
Herts Beacon Assist is an app to support victims of crime who reside in Hertfordshire. The app provides detailed information on your rights as a victim of crime, whether reported to the police or not, and can connect you to the Hertfordshire Beacon Victim Care Service for further support.
How can the Beacon Assist app help me?
On Herts Beacon Assist you can speak directly to our team for advice, information, and support.
You can track how different areas of your life have been impacted by what's happened, in preparation for writing a Victim Personal Statement, in case you are going through a court case.  You can keep a calendar with key dates such as a phone call with your Beacon Support Worker, when an officer will be taking your statement, or court dates.
You can access resources for coping and guides such as the Victim Code of Practice.
You can ask our team any questions, completely confidentially and independent of police, in case there's anything about the criminal justice process you aren't sure about.
Who can use it?
Herts Beacon Assist is for anyone over the age of 13 living in Hertfordshire who has been impacted by a crime. This could mean you have been directly impacted by the crime, you could be a family member or a loved one of someone who has, or you have witnessed a crime that is affecting you.
Is Herts Beacon Assist available outside of Hertfordshire?
Herts Beacon Assist is only available to residents of Hertfordshire. However, if you would like information about local support services outside of Hertfordshire, you can contact our team who will point you in the right direction.
How can I use it?
You will need internet access to use Herts Beacon Assist from your desktop, laptop or smartphone.
To access the app on your desktop PC or laptop, follow this link and you can either create a new account or log in to your account if you already have one.
If you have an Apple (iOs) device, such as an iPhone or iPad, search for 'Herts Beacon' to download the iOS app.
On any Android device, go to Play Store and search for 'Herts Beacon'.
How do I talk to someone in person?
If you'd like to contact a member of the team through Herts Beacon Assist, create an account, go to 'Chat' and 'request a call'.
Alternatively, you can request contact via our contact form on the Beacon website, you can email us at info.hertfordshirebeacon@catch-22.org.uk or call our helpline on 0300 0115 555 (option 3) 
Testimonial

We have recognised the barriers that can prevent victims from engaging with victim services for some time. The Herts Beacon App uses technology to help overcome barriers of accessibility, language or even the stigmatisation of seeking help. Above all, it provides a safe and secure alternative means of tracking court dates, knowing more about your rights, and the ability for more people to choose how they access the help they need.